Steve Mauro – Beat The Market Maker (BTMM) 2019
Sale Page: Steve Mauro – Beat The Market Maker (BTMM) 2019
PROOF OF PRODUCT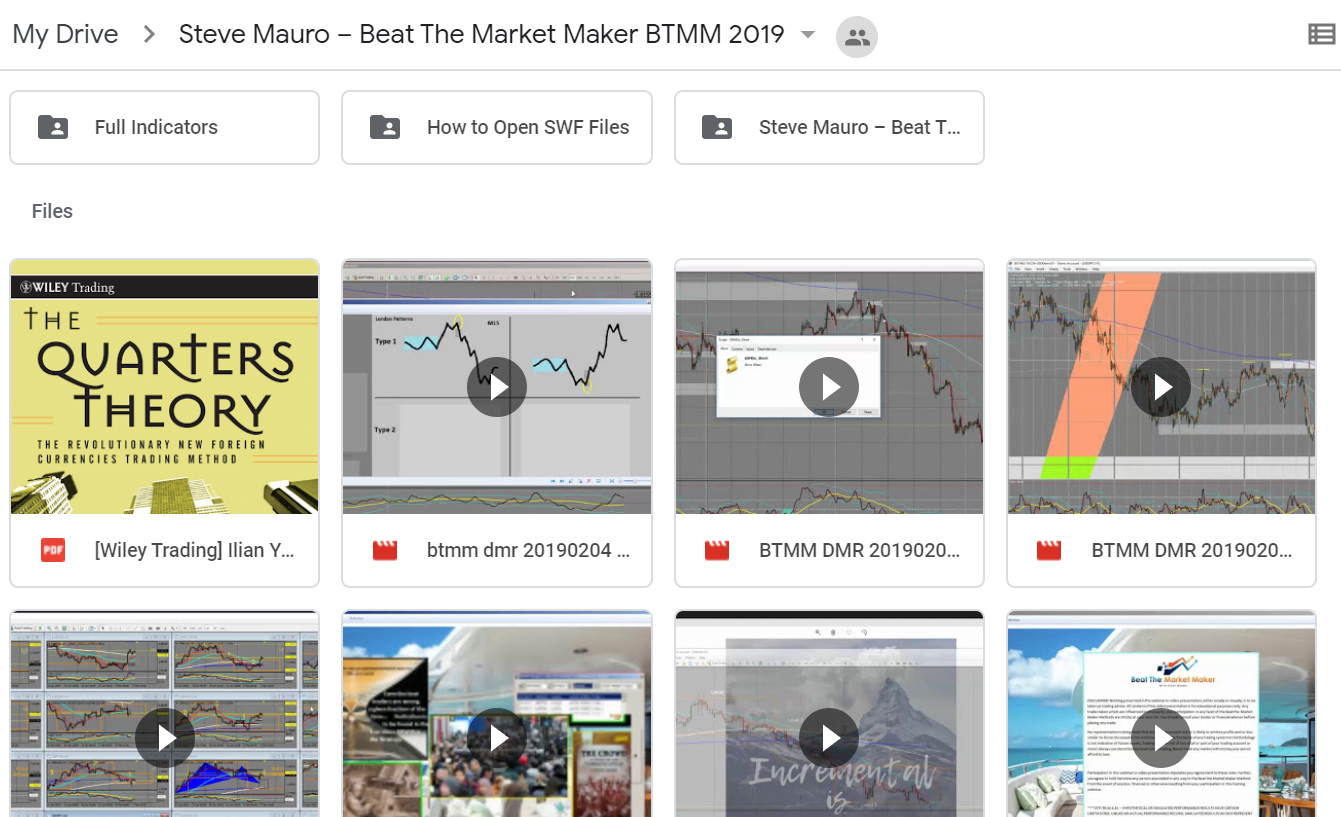 Friends, as I write this, gold hit all time highs, the stock market is in turmoil, and unemployment is running rampant throughout the country. What does this all mean to you as a trader? In short, absolutely nothing! No matter how bad the pundits say the economy is, I bag my limit every time I trade. My wife and child are sheltered from turmoil in the markets.
and the price of gas? Irrelevant in here!! Whether or not you realize it yet, we are all part of something bigger than ourselves. The knowledge that I share in my class is the key to financial stability in your lives and the lives of your children. Do not take this opportunity for granted. I promise you, if you get focused and roll up your sleeves, you will find it. If you ever had a chance at success as a trader it is through this doorway! I am extending my hand. Will you step through?
– How to identify the highs and lows of the day
– Which times to avoid trading at all cost
– The best times and sessions to trade
– How to identify the clues that will clearly show you the Market Makers are about to strike
– How to predict the Market Makers next moves can save your account from being completely wiped out
– The closely guarded secrets that The Market Makers hope you never find out.
– How to spot The Market Maker cycles and which direction the market is going to turn
– Beat The Market Maker Training Program Contains.
– Customized MT4 Beat The Market Maker Add-ons Package
– – Work time ribbon – Best times to be in front of the action
– – Stop Hunt Zone – Where the dealer must go to trigger the stops
– 5 Module In-depth Training Program (You Get Immediate Access To View At Your Own Place)
– Module 1: Preliminary Training
– (2 hours of video)
– – To get started on the right foot, my team and I will make sure everything is loaded correctly on your platform and you are ready to go!
– – Expert MT4 users can consider this preliminary training module as 'Optional'
– Module 2: Discovery
– (4 hours of video)
– – Dealer psychology and market behavior
– – The Market Makers' true intent, and learn to identify the trap areas
– – What constitutes a stop hunt
– Module 3: Identifying Market Maker Behavior
– In Real Market Conditions
– (4 hours of video)
– – Understand the accumulation phase and its nuances
– – Understand the weekly and daily cycles
– – No more guessing where the market will go
– – Understand the dealer trend and how it differs from the retail traders' trend
– Module 4: Using Common Indicators to Recognize
– Market Maker Behavior
– (4 hours of video)
– – Understand which sessions are the most profitable, and the best times of the day to trade
– – Learn how to identify the peak formation
– – Understand how to differentiate the best trades using the absolute high and low for the day
– Module 5: Putting It All Together & Key Set-ups
– (4 hours of video)
– – Understand dealer levels
– – Understand fractional disparity, and what this means for you
– – Understand key setups and their variations
___________________
***** Terms of Sale *****
* After payment, we will send you a link to access and download the course anytime you want.
* We just refund you in case of:
(1) Item is not as described
(2) Item doesn't work the way it should
(3) Item support is promised but not provided
GRASP COURSE – Partners For Your Success
More Courses: Stock Forex Options – Trading