PROOF OF PRODUCT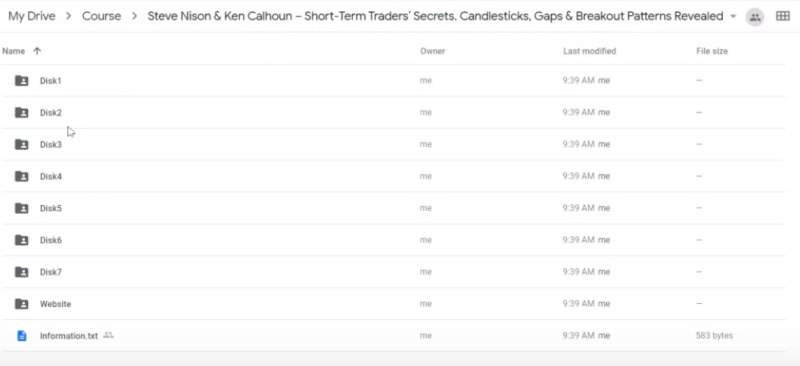 You'll begin learning dozens of short term trading secrets with this "Best of the East and the West", File Size: 3.9 GB
---
Steve Nison & Ken Calhoun – Short-Term Traders' Secrets. Candlesticks, Gaps & Breakout Patterns Revealed
oin two of the trading industry's hottest figures, Steve Nison of CandleCharts.com and Ken Calhoun of DaytradingUniversity.com, in this massive 7-DVD seminar series for active traders.
DVD1: Candlesticks for Active Traders: The Basics and Beyond (2hrs 20 mins)
DVD2: Trading the Candlesticks: Entry and Exit Signals (2 hrs 30 mins)
DVD3: Insider Secrets for Trading Intraday Candlesticks (1 hr 25 mins)
DVD 4: Breakout Day Trading Indicators and Patterns (2hrs 10 mins)
Get immediately download Steve Nison & Ken Calhoun – Short-Term Traders' Secrets. Candlesticks, Gaps & Breakout Patterns Revealed
DVD 5: Swing Trading Secrets: 10-Day ADX Breakouts (1 hr 45 mins)
DVD 6: Precision Tape Reading Strategies: Profiting with Time and Sales (1 hr)
DVD 7: Bonus – Extra Video Live Seminar Footage (2 hrs 15 mins)
You'll begin learning dozens of short term trading secrets with this "Best of the East and the West" seminar that had participants clapping and cheering as they learned the insider techniques for successful active trading.