PROOF OF PRODUCT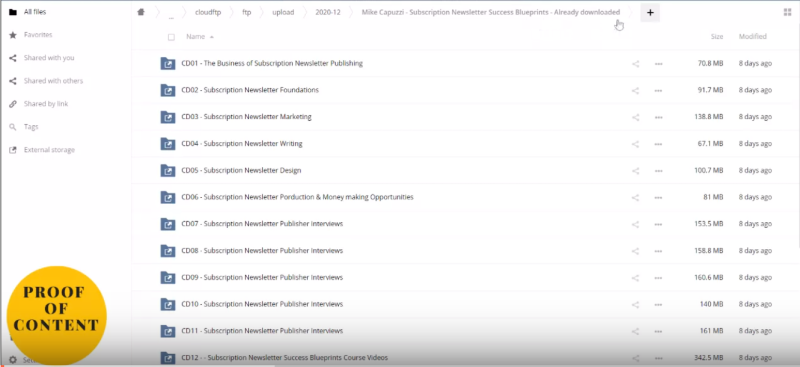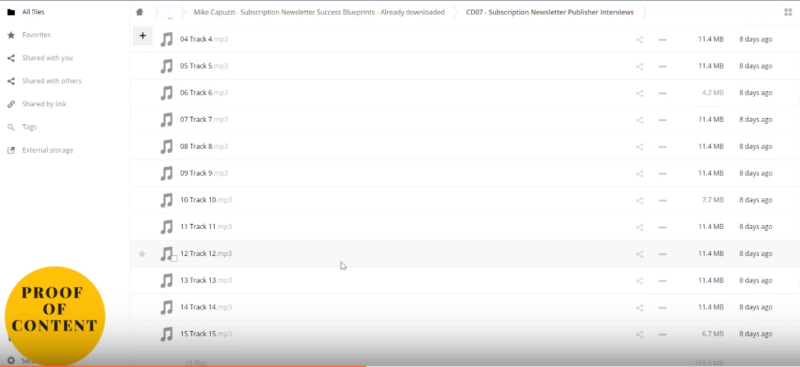 If you're like me, it's the "perfect" business (now we both know there's no such thing as perfection, but to me this is close). I want you to pause for 45 seconds and carefully think about these five questions… File Size: 2.1 GB
---
Mike Capuzzi – Subscription Newsletter Success Blueprints
for Building Your 6 or 7 Figure
Subscription Newsletter Business![/font]
Dear Business Owner,
Tens of thousands of subscription newsletters have been started over the years, yet only a small percentagemake their publishers money and for the small minority of subscription newsletter publishers who are profitable, it's a magical, often lifestyle-oriented business which brings wealth, fame and satisfaction of being able to help subscribers improve their life or business.
I'm Fortunate to Have Such a Business
and I Want To Help You Create One Too!
If you're looking for a unique way to leverage your business expertise (or share your knowledge about a particular hobby or passion) – a paid subscription newsletter could be the right opportunity to get paid handsomely while helping your subscribers all around the world!
If you're like me, it's the "perfect" business (now we both know there's no such thing as perfection, but to me this is close). I want you to pause for 45 seconds and carefully think about these five questions…
Do you have a specific expertise, passion or pursuit others are interested in improving or learning more about?
Can you (somewhat clearly at this point) identify a target market you believe would be willing to pay for this information?
Is this target market reachable by direct mail, email, offline or online advertising?
Are you willing to invest time, energy and money to market your newsletter?
Are you willing to put out a top-flight publication, month after month in order to help your subscribers?
If you can honestly answer yes to each of these questions, I can help you get started quickly in the subscription newsletter publishing business with minimal mistakes and maximum profits out-of-the-gate!
Being a successful newsletter publisher offers you:
The ability to create monthly or annual continuity income
A high return on your money and time investment
The opportunity to have a monthly conversation with your subscribers
The ability to build and leverage your own marketing media (which can become a $$$ asset)
A proven media that can be the foundation of a profitable membership program
And perhaps the most important benefit, flexibility and freedom to run the business with few (if any) employees, little overhead and around your life!
If these sounds appealing, the next logical question is how to get started, right? Again, if you're like me, you'll do a bit of research and you'll come to the quick conclusion…
…there's NOTHING OUT THERE
which shows an entrepreneur how to successfully
start a subscription newsletter business today!
Which is the exact reason I decided to invest the time and energy into putting together the most comprehensive and complete study of the subscription newsletter business and host a workshop to show others how to create their own.
Because I'm a firm believer in studying history, I went on a full-time mission to buy every book, course and video I could find on the subscription newsletter business. Months (and thousands of dollars) later I had a small library of subscription newsletter resources, the most recent of which was from the mid-1990's.
Most were created before computers and the Internet were commonplace (the many references to starting to use "electronic mail" and the "World Wide Web" made me smile).
I also purchased a number of out-of-print newsletters from private collectors to see what those who came before us published.
Then, starting in July and finishing up in mid-October, I invested over 230 hours to research the past, distill my personal experiences, interview key newsletter publishers and collate everything into a dynamic and eye-opening full-day workshop.
Get immediately download Mike Capuzzi – Subscription Newsletter Success Blueprints
On October 21, 2013, a select group of entrepreneurs from around the United States and who each paid at least $1,000 to attend, spent the day with me absorbing the "blueprints" I shared.
For the first time in decades, a successful subscription newsletter publisher peeled back the curtains and took an in-depth, "from-the-trenches" look at how to create a profitable paid subscription newsletter business in the 21stcentury.
All told, by the end of the day, I delivered over 1,000 pages of content, newsletter examples, marketing examples from others, my marketing examples and interviews with other successful publishers. Before I left the hotel, the reviews started coming in…
Very thorough presentation on all aspects of newsletter publishing. Great mix of first-hand experience and deep research on the work of others. Good clarity on the content of strategies and design. Came in with a lot of unanswered questions and left with a clear blueprint of what I'm going to do.
Jim Hart
You've taken the science of newsletters and distilled it in a way that makes it accessible and relevant to this attendee. I now feel empowered and educated to begin my own paid newsletter. The value and information given is tremendous.
Mickie Kennedy
While personal notes like above (and elsewhere in this letter) are appreciated, the real testimony will come when I see a number of attendees successfully publishing their own subscription newsletters in the months and years to come.
In addition to helping as many people as I could with my live workshop, my goal was to develop the most up-to-date, comprehensive and "get-started-now" set of blueprints for successful subscription newsletter publishing.
[font family="Helvetica,Arial,sans-serif" size="32″ color="BA0202″ textshadow="0″ alignment="center" weight="normal" style="italic" lineheight="110″]
MISSION ACCOMPLISHED!
[/font]
But things didn't stop when the workshop was over. Within 48 hours of the workshop, I spent two days distilling down my entire day's worth of content into a complete training home-study course. Truly the "best of the best" of my workshop broken down into seven, easy-to-follow blueprints.
No aspiring subscription newsletter publisher should consider getting started in the paid newsletter business without first studying and implementing the strategies, tactics and principles I reveal in my Subscription Newsletter Success Blueprints home-study course!
Fastest and Surest Way to Subscription
Newsletter Success Available Anywhere![/font]
If you have the slightest inclination to get into the subscription newsletter game, the decision is not whether or not you need this training, it's simply a matter of how fast you can secure one of the special packages I've set aside during this special offer.
Subscription Newsletter Success Blueprints is 100% real-world advice and is not some academic, theoretical tome. You simply cannot get such a laser-focused look into how to be successful with subscription newsletter publishing anywhere else and here's why…
Profit Booster #1: A Look At My Newsletter Business
In this training, I'll take you behind-the-scenes to look at my own subscription newsletter business. I'll show you things I did right and a few things I did wrong (along with a clear warning to NOT make the same mistakes I made).
Profit Booster #2: My Own Newsletter Marketing
Examples You Can Swipe For Your Marketing!
Over the years I've done some pretty decent marketing for my newsletter and I included many of my winners for your study. As an unexpected gift, I gave all my workshop attendees the permission to use my marketing for their own business! Essentially, giving them a huge swipe file of newsletter marketing ideas.
When you invest in my Subscription Newsletter Success Blueprints, you will get the same permission to use my various offline and online marketing in your own newsletter marketing business. The only thing you cannot do is sell or give this information away to others.
Profit Booster #3: My Seven Subscription
Newsletter Publishing Blueprints
I developed these seven blueprints to be easy to understand and even easier to implement. Here's a partial list of what's included in these comprehensive blueprints for your publishing business.
Blueprint #1: The Business of Subscription Newsletter Publishing
A history of the subscription newsletter
The print vs. digital debate
Types of subscription newsletters
The power of the personality-driven newsletter
15 reasons you want to publish a personality-driven newsletter
What you need to publish a subscription newsletter
What you don't need to publish a subscription newsletter
Blueprint #2: Subscription Newsletter Foundation
Your goals as a publisher
How to identify your ideal subscriber
Testing your newsletter idea
How to name your newsletter
How to price your newsletter
Newsletters as membership "glue"
Various membership models
Legal issues you need to consider
Blueprint #3: Subscription Newsletter Marketing
A short-cut to newsletter success
Launching your newsletter
How to create a great front-end offer
How to get subscribers
How to keep subscribers
Saving subscribers when their credit cards go bad
Reactivating "lost" subscribers
V.I.P. marketing
Annual renewal marketing
How to raise your prices
Blueprint #4: Subscription Newsletter Writing
Finding "your voice"
How to wow!
Tap into the power of "info-tainment"
My personal writing strategy
Ideas to write about
An "insider's look" at Dan Kennedy's checklist for writing his newsletters
Pithy pointers on how to write your newsletter
Blueprint #5: Subscription Newsletter Design
How to design your newsletter for maximum pricing
General design and masthead tips
18 copy cosmetic tips for making your newsletter easier to read
Blueprint #6: Subscription Newsletter Production
How to craft your order form terms
How to get your newsletter printed
How to use the PDF format for sending to your printer and/or digital content
Mailing tips and strategies
Critical things you must include in your newsletter
My newsletter production schedule
Blueprint #7: Subscription Newsletter Moneymaking Opportunities
Newsletter subscription revenues are just the start!
15 moneymaking ways to monetize your newsletter
Profit Booster #4: I Interviewed a Pedigree Group
Of Successful Subscription Newsletter Publishers
Get immediately download Mike Capuzzi – Subscription Newsletter Success Blueprints
THIS IS HUGE!
While my experience and insights are super-valuable, I'm still only one person. So to help my workshop attendees (and you), I reached out to a number of newsletter publishers I admire for an interview. Everyone of them said yes and during the interview, I asked them a very specific set of questions I knew every aspiring newsletter publisher wanted to know.
In a few cases, like Brad Antin and Ted Nicholas, they're no longer publishing their newsletter, but their past success insights and advice are timeless!
These interviews are priceless and the wisdom in each is a perfect compliment to my own research and experience. Here's the all-star publisher lineup:
Dan Kennedy
Ben Glass
Ben Settle
Brad Antin
Brian Kurtz
Chris Mullins
Craig Garber
Dan Gallapoo
Yanik Silver
Jerry Jones
Ted Nicholas
Paul Hartunian
Perry Marshall
Jon McCulloch
While you may not recognize some of these folks, trust me, they are all super-successful subscription newsletter publishers and you'll want to either listen to (or read the transcripts) of these interviews as soon as you get this course!
To whet your appetite and give you an idea of what's in store when you get your own copy of my Subscription Newsletter Success Blueprints here's just a sample of what you'll get when you go through these interviews…
Dan Kennedy's recipe for publishing success
Ben Glass' #1 strategy for success in subscription newsletter publishing
Ben Settle's "drug dealer" strategy for marketing your newsletter
Brad Antin's addressing the elephant in the room regarding free information on the Internet
Boardroom's Brian Kurtz's "warning" for all new newsletter publishers
Paul Hartunian's, (who has been publishing the same newsletter for the past 17 years), personal technique for "niching" your newsletter
Ted Nicholas', the man who has sold over $9 billion in products and has published countless newsletters, #1 thing to avoid as a newsletter publisher
Craig Garber's nuggets for writing your newsletter to keep subscribers reading year after year (Craig has been publishing the same letter for the past 9 years)
Doberman Dan Gallapoo's "I would do it this way, if I was starting all over" nugget
Yanik Silver's "wrapped in cheese" strategy for increasing subscriptions
Mail expert Jerry Jones' recipe for direct mail success for newsletter publishers
Ted Nicholas' dire warning about your free content
Paul Hartunian's best front-end offer strategy for getting hundreds of new subscribers every time he runs it (this is very cool)
Perry Marshall's recipe for "finding your voice" and bonding with your subscribers
Perry's "cut your vein and bleed" strategy for writing newsletters
How publisher Jon McCulloch retains 85% of his subscribers over 12 months
Jerry Jones take on the importance of your "rally cry"
I cannot stress how important these interviews will be to help you reach subscription newsletter publishing success fast. In addition to their wisdom, each interviewee graciously donated a single issue of their newsletter to be included in this course so you can see what they're publishing and study their letter as you get ready to publish your own, which brings me to…
Profit Booster #5: A Valuable Collection of
Complete Newsletters to Read and Study!
Above and beyond the 14 interviewees, seven other publishers (who I did not get a chance to interview) donated a single issue of their newsletter to this cause. These include an issue of The Gary Halbert Letter (thanks to Kevin and Bond Halbert) and examples from Bill Glazer, Rory Fatt, Robin Robins, Michael McLean and more!
Total there are 21 full issues included and they have a street value of over $1,500! I worked hard to bring them to you, so please promise you'll review them, study them and figure out if there are ways you can do the same things each publisher is doing in your own newsletter.
Profit Booster #6: Dedicate Just Eight Hours
and I Can Practically Guarantee Your Success!
I realize it's a bold statement, but I truly believe if you set aside just eight hours — one business day – and dedicate it to going through and implementing this training, your own subscription newsletter success is practically guaranteed!
I've been giving live workshops for years and at last count have done over 80 of them since 2006. I have a gift for teaching in a workshop environment and an equally important gift for taking workshop materials and creating a easy-to-follow, connect-the-dots training anybody can understand and implement.
Let me show you exactly what you'll receive when you get your own copy of my Subscription Newsletter Success Blueprints…
Course manual #1 – 300 pages
Blueprint #1: The Business of Subscription Newsletter Publishing
Blueprint #2: Subscription Newsletter Foundation
Blueprint #3: Subscription Newsletter Marketing
Course manual #2 – 230 pages
Blueprint #4: Subscription Newsletter Writing
Blueprint #5: Subscription Newsletter Design
Blueprint #6: Subscription Newsletter Production
Blueprint #7: Subscription Newsletter Moneymaking Opportunities
Course manual #3 – 300 pages
Who's who of newsletter publishing interview transcripts and full newsletter examples
Course manual #4 – 175 pages
Brad Antin interview and webinar presentation and transcript
Additional full newsletter examples
Additional partial newsletter examples
Your Personal Blueprint – 4 pages
An interactive series of questions to get you thinking
Will help you get moving faster
As a bonus, I will critique (see below)
Audio CD-ROMs (#1 – 11)
CD-Audio for playback in your car, computer, etc. of my newsletter training
Audio versions of newsletter publisher interviews
Data CD-ROM (#12)
CD-Video for playback in your computer of my newsletter training
Brad Antin webinar video on how he gave away 250,000 books to launch his newsletter
Each course manual is conveniently coil-bound so it lays flat while going through it and the entire 12 CD set is conveniently packaged. This training is a complete multimedia experience allowing you to digest the information in you most preferred learning style!
Or if you're like me, you'll do all three!
The price of Subscription Newsletter Success Blueprints is $995.00, which is a bargain considering it's a complete set of blueprints for helping you start your own profitable subscription newsletter. The 21 full sample issues alone are worth the price, let alone my seven blueprints, templates, examples, interviews and more.
for only a single payment of $995.00
or two payments of $550.00 [/font]
For less than $1,000, you can have my personal short-cuts, blueprints and examples for getting into the subscription newsletter game, quickly and successfully.
This is a potent time-saver/moneymaker opportunity to allow me to guide you to publishing success and you simply cannot afford not to grab one of these special packages if you have even the slightest desire to publish your own print, paid subscription newsletter!
This is a BIG package so insured Priority Mail shipping will be added and the cost will depend on your address.
I am so confident in the value of this specialized training, I'm backing it up with a 365 Day, 100% Risk Free Guarantee…
[guarantee style="TJ" gtysize="large"]You're protected by my 365 day, money-back guarantee! If you're not 100% satisfied with my Subscription Newsletter Success Blueprints course within the first 365 days, you can return the entire package for a full refund of your purchase price. You have ZERO RISK![/guarantee]
Will Do For You[/font]
If you're reading these words right now, it proves you are interested in larger success. You want to fulfill your goals. You want to help others with your expertise and passion. You want to enjoy the benefits that being a paid subscription newsletter publisher can bring you.
I admire you and I thank you for reading this far. I assure you my Subscription Newsletter Success Blueprints course will give you exactly what you need to get started publishing your own paid newsletter.
It's a treasure chest of what to do (mixed in with a few what not to do's). I will lead and guide you and show you exactly how to get up and running as quickly and profitably as possible.
And now the next step is up to you…
Remember, you're protected by my 365 day guarantee and my exceptional reputation for delivering high-quality goods. Make the decision today to get into the subscription newsletter game and allow me to help you bring your passion to the world!
Mike Capuzzi – Subscription Newsletter Success Blueprints Download, Subscription Newsletter Success Blueprints Download, Subscription Newsletter Success Blueprints Groupbuy, Subscription Newsletter Success Blueprints Free, Subscription Newsletter Success Blueprints Torrent, Subscription Newsletter Success Blueprints Course Download, Mike Capuzzi – Subscription Newsletter Success Blueprints Review, Subscription Newsletter Success Blueprints Review
Get Internet Marketing Course
Digital marketing is the component of marketing that utilizes internet and online based digital technologies such as desktop computers,
mobile phones and other digital media and platforms to promote products and services. Its development during the 1990s and 2000s,
changed the way brands and businesses use technology for marketing. As digital platforms became increasingly incorporated into marketing plans and everyday life,
and as people increasingly use digital devices instead of visiting physical shops, digital marketing campaigns have become prevalent,
employing combinations of search engine optimization (SEO), search engine marketing (SEM), content marketing, influencer marketing, content automation,
campaign marketing, data-driven marketing, e-commerce marketing, social media marketing, social media optimization, e-mail direct marketing, display advertising,
e–books, and optical disks and games have become commonplace. Digital marketing extends to non-Internet channels that provide digital media, such as television,
mobile phones (SMS and MMS), callback, and on-hold mobile ring tones. The extension to non-Internet channels differentiates digital marketing from online marketing.